This simple carving mistake is the cause of most bearing failures. The good news is this mistake is easily solved in less than 1 second. First lets look at the photo below of a failed Vortex F5 bearing.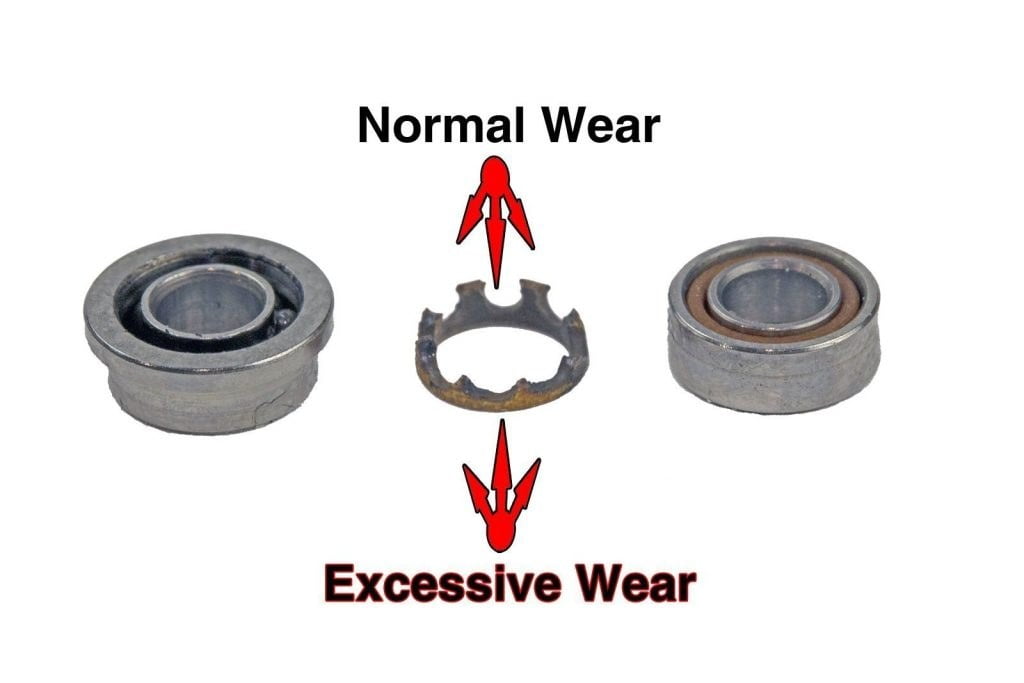 The object in the middle of the photo is the bearing retainer clip. The purpose of this clip is to separate the ceramic balls and hold the bearing assembly together. The other two objects are the Vortex F5 front bearing shown on the left and the rear bearing on the right. As you can see, the rear bearing still has the bearing retainer clip seated in place. The front bearing failed when the bearing retainer clip was unable to hold the balls in place.
A closer examination reveals that the ball sockets look normal on the top, but are worn down to just nubs on the bottom. When this happens, the balls are no longer separated causing them to make contact with each other. The sockets between the balls has worn down to small nubs. This causes bearing failure.
The Fix and How To Get Up To 400% More Life!
Next time you pick up your Vortex F5 carver, rotate it a small amount as shown in the photo. An easy way to remember is the star pattern used when changing a tire. Rotate your Vortex F5 for every 30 minutes of carving. By doing this, you will even out the wear on your bearing retainer clip and get up to 400% more life from your bearings.
Don't hesitate to leave a reply below if you have any questions or comments.